Bank of America se encuentra entre las principales corporaciones financieras de los Estados Unidos. Fue fundada en 1904 por Amadeo Giannini, y su primer nombre fue "el Banco de Italia". Cambió de nombre en 1930.
Historia del logo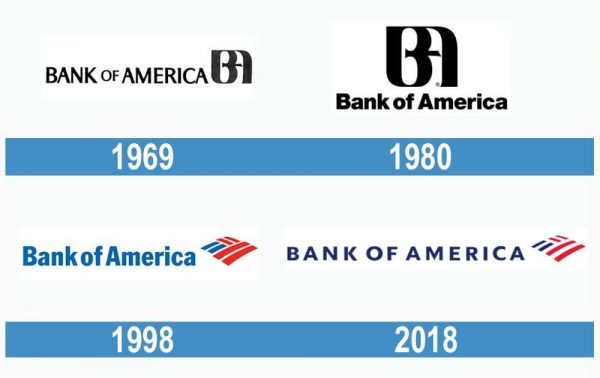 El primer logotipo del banco de 1969 fue su nombre escrito en mayúsculas seguido del acrónimo estilizado "BA": la letra "B" superpuso a la "A". El acrónimo fue escrito en una fuente más grande y audaz. En 1980, se cambió el diseño: el nombre del banco se movió debajo del acrónimo y presentaba letras mayúsculas y minúsculas. El acrónimo retuvo su forma original. El logotipo se usó hasta 1998.
Símbolo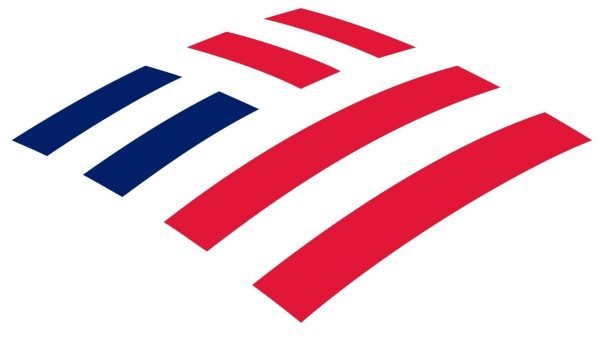 El logotipo actual del Bank of America ha estado en uso desde 2001. Fue aceptado después de la reorganización del banco. El logotipo representa el nombre del banco escrito en azul y presenta un patrón de rayas azules y rojas a la derecha. La elección de los colores fue enfatizar la importancia del banco para la nación, ya que claramente indica la paleta de colores utilizada en la bandera nacional de EE. UU. Existe la opinión de que el logotipo funciona bien porque cumple con los sentimientos patrióticos de los estadounidenses. Esta tiene que ser la razón principal por la que el banco ha alcanzado un éxito tan grande tanto en los Estados Unidos como en el extranjero.