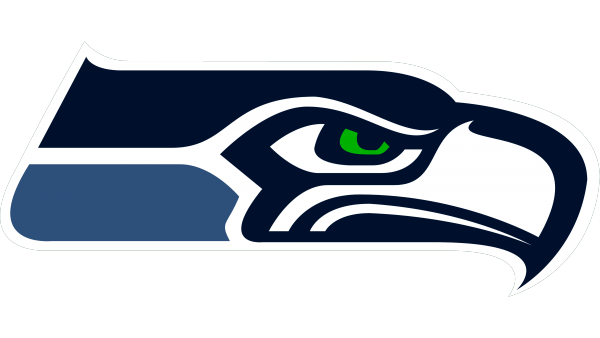 El logo de los Seattle Seahawks es el tipo de emblema que crea una fuerte respuesta emocional. El agresivo pájaro indígena, cuyo feroz resplandor no es tan fácil de olvidar, solo ha sido modificado dos veces.
Logotipo de significado e historia
El emblema fue creado en 1975, poco después de que el equipo obtuviera su nombre. Tanto el nombre como el emblema debutaron el 17 de junio. En ese entonces, el gerente general del equipo, John Thompson, describió a un Seahawk de la siguiente manera: un «pájaro duro que se alimenta de peces». El logotipo presentaba una pintoresca cabeza de águila pescadora azul y verde con un pico fuerte.
El emblema de 2002
A primera vista, el logotipo era casi el mismo, ya que la metáfora visual central no se modificó. Sin embargo, de hecho, se realizaron bastantes modificaciones, lo que resultó en un aspecto más limpio, agresivo y elegante.
Un cambio en la paleta de colores trajo los siguientes tonos nuevos: tonos más claros y oscuros de azul y verde lima. El rediseño fue realizado por el equipo de diseño interno de NFL Properties y estuvo relacionado con el traslado del club a la NFC.
El símbolo de 2012
En términos de la forma general y las líneas, el logotipo de los Seahawks se ha mantenido igual. Solo se ha modificado el esquema de color. A partir de 2012, incluyó los llamados tonos College Navy y Action Green, así como el color de acento Wolf Grey.
El origen del logo
John Thompson, quien fue contratado como gerente general del equipo en 1975, mencionó que cuando la firma de la NFL recibió el encargo de diseñar el logotipo, les pidió que «siguieran la cultura del noroeste de la India». No había condiciones estrictas a este respecto, pero era deseable que el logotipo recordara un poco al arte de los nativos americanos. Además, según Thompson, la NFL mencionó en realidad una referencia a algunos libros sobre la cultura del noroeste de la India. Este hecho incluso se exploró en un artículo de 1975 en Seattle PI. Sin embargo, con el paso del tiempo se olvidó el origen del logo, y solo en la década de 2010 se "descubrió" la conexión una vez más y se desenterró el artículo del periódico.
El libro que inspiró a los diseñadores fue Art of the Northwest Coast Indians de Robert Bruce Inverarity, publicado en 1950. Aquí había una foto de una máscara de Kwakwaka'wakw. Era una supuesta máscara de transformación que existía en las dos formas: cuando estaba cerrada, mostraba un águila, mientras que cuando se abría durante la danza, revelaba un rostro humano. Representaba un águila sobrenatural, también llamada pájaro del trueno, que podría existir en forma humana.
La similitud con el logotipo de los Seahawks era absolutamente obvia: uno no puede dejar de notar la línea audaz alrededor del ojo y la boca, las líneas distintivas de los párpados, así como la forma general de la cabeza y el pico. Lo más probable es que la máscara se haya fabricado en algún lugar entre Alaska y Seattle.
Dónde está la máscara ahora?
Poco después de que se redescubriera el origen del emblema de los Seahawks, también se encontró la máscara. Resultó ser parte del Museo Hudson de la Universidad de Maine. Antes, la máscara era propiedad del artista alemán Max Ernst, luego, tras su muerte en 1976, fue comprada por un coleccionista privado, William P. Palmer III. Su colección, a su vez, fue al Hudson Museum en 1982.
Para acercar la máscara a los fanáticos de los Seahawks, se trajo de Maine a Seattle. Al final del viaje de 3.200 millas, la máscara llegó al museo Burke, donde ha estado en exhibición más de una vez.
Fuente
La marca denominativa actual Seahawks presenta un tipo de letra sólido en mayúsculas. El tipo es perfectamente legible, pero reconocible debido a los elementos nítidos distintivos presentes en todas las letras.
Color
La paleta de colores incluye el tono de azul que se llama «College Navy» (o «Seahawk Blue»), así como «Action Green» y «Wolf Grey». Los tres son los colores oficiales del equipo, también presentes en su uniforme.