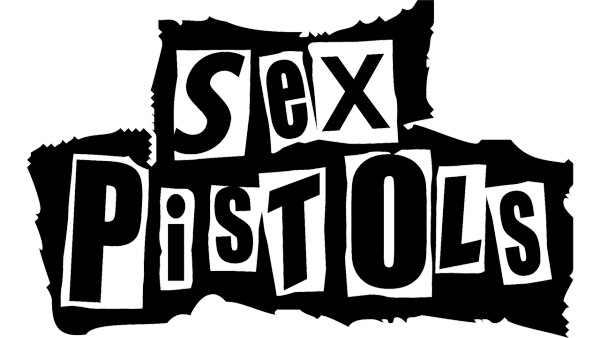 Sex Pistols es una legendaria banda británica de punk-rock, que fue creada en 1975 y se convirtió en líder e inspiradora de un movimiento punk en el Reino Unido. Sex Pistols ganó innumerables premios de música durante su historia y está incluida en el Grammy Hall of Fame.
Significado e historia
Malcolm McLaren, el productor de la banda, fue el responsable del nombre de Sex Pistols. Su objetivo era crear una representación de un espíritu joven y sexy. Aunque el líder de la banda, Johnny Rotten, nunca le gustó mucho el nombre.
El logotipo de Sex Pistols es instantáneamente reconocible y se convirtió en un ícono en la esfera de la música rock. Se compone de una marca personalizada de estilo rescate, creada por un reconocido artista británico, Jamie Reid.
El logotipo apareció por primera vez en una obra de arte famosa de Reid «Anarchy In The UK», donde se coloca en una bandera del Reino Unido de forma difusa.
La paleta de colores más común del logotipo de Sex Pistols es monocromática, donde todas las letras negras se colocan en rectángulos blancos separados, ubicados en un fondo negro «rasgado».
El logotipo de Sex Pistols es un clásico atemporal, un símbolo de la música rock, el espíritu rebelde y el estilo de vida, una celebración de uno de los hitos de la cultura contemporánea.